Discover more from The Mule by Milli Hill
The Mule is the newsletter of bestselling non-fiction author Milli Hill. It's a vigorous hybrid of motherhood, feminism, the female body, sex and gender, writing, publishing, and life.
Over 5,000 subscribers
I had a little break from writing earlier this summer because we went away as a family of five (2 adults, 3 kids aged 15, 13, 9) on a trip which was definitely a more unusual type of 'holiday'. In fact, if 'holidays' are supposed to be a chance to rest and relax, then this wasn't a holiday at all - it was more of an adventure. We packed the car (a Skoda Octavia plus roof box) with 2 small (3 man) tents, one 'bag for life' of clothes each, sleeping mats and bags, a basic kitchen box and a cool box, and drove from Somerset to the South coast of France and back, camping all the way. And (to my surprise) it was absolutely brilliant.
I thought I'd tell you all a bit about it because it's the kind of trip I would probably never have taken if I hadn't had my partner involved - he had a few similar 'adventures' with his own family and therefore knew what he was doing. When I was growing up, we didn't really do many holidays, save the odd trip to visit family friends in Cornwall, and I'm also an only child, so I didn't really have a clue 'how to' go on holiday, let alone on an adventure, with so many small humans. Perhaps this post will get you thinking about doing something similar yourself.
Before I get going I need to say that I do realise we were very lucky to have a holiday of any kind this summer, with the cost of living crisis affecting everyone as it is. Having said that this type of holiday could be done on quite a low budget compared to a package holiday or even compared to a UK based holiday - I'll try to give some idea of cost later on in this post. I'd also like to say that I won't be sharing any photos of my children's faces - I used to do this more freely but experiences of the online world in recent years have made me a lot more cautious. Further discussion of this in another post perhaps!
So, here goes…!
The planning stage
This happened completely at the last minute whilst we were all extremely busy with other stuff - including me finishing the first draft of book 4! - so it's a miracle it all worked out really. We did book all the campsites in advance - I felt I needed this security with the kids in tow - but this is not essential if you are just looking for non-electric tent pitches and are prepared to be flexible. Booking in advance gives you the advantage of peace of mind but the disadvantage that if you really love or loathe a place, you can't stay longer or bail out early. All of the campsites were extremely easy to book online. The cheapest campsites in France are 'municipal' sites - there doesn't seem to be a centralised website of these. As I was in a rush I also leant heavily on the Hipcamp website to narrow down the search.
The route
We had wanted to get the overnight ferry for the fun of the journey, but this turned out to be too expensive - around £800 - so we went Dover to Calais instead. This meant a longer drive to the ferry port for us but it was worth it for the price, just £150 for all five of us and the car, return. And to be honest, the kids found an hour or so on the ferry long enough! I think the novelty may have worn off if we'd done the overnight crossing. From Calais we took just under 3 weeks to travel a loop of nearly 2 thousand miles all the way down to the southernmost part of France and back.
Stop 1 - Epernay - 1 night
We caught the 11am ferry which meant we were in France at 1.30pm French time. From Calais we then drove another 3 hours to the municipal campsite in Epernay. In my last minute brain, dashing around packing and booking sites and trying to knock my manuscript into shape, I knew I'd heard 'Epernay' somewhere before but couldn't quite think where. It was only when we were about half an hour away that I suddenly twigged: CHAMPAGNE!! Moet et Chandon, Mercier, Perrier Jouet, Heidsieck & Co Monopole - if you've ever stared lovingly at one of these bottles or even had it so rarely that you've made it into a candlestick, then you'll have seen the word "Epernay" on it somewhere, as they are all made there.
We were only here for one night as a stopover in our quest to head south, but it really was a fantastic site, and if you ever wanted to go big on champers, it would be a great week's holiday without the kids, camping and exploring the vineyards and tasting their fizz. The place was really friendly and had a pretty little riverside restaurant where we had probably one of the best meals of the trip, perfect steaks and of course…champagne. After dinner, we grown-ups were itching to walk into the centre of Epernay and sample the bars on the famous 'Avenue de Champagne'…but we knew that making the kids walk 20 mins after such a long day just to watch the parents get pissed wasn't really going to work out. So off to bed we reluctantly went.
Stop 2 - Lyon - 2 nights
From Epernay we travelled to Lyon, one of the longer drives, taking about 4 and a half hours.
When I was 17 I went to Lyon for my entire summer holiday between lower and upper 6th and worked as an au pair for a family in Lyon. It was an unforgettable experience, completely mindblowing in terms of seeing a whole new way of life and culture, so very different to life in the UK in the early 90's. Live lobsters in the supermarkets; long family lunches and dinners each day; frogs legs, runny cheese, saucisson, raclette, snails, salads to die for, red wine in an earthenware jug in the fridge, drunk in moderation from around 1pm til bedtime. I cooked for them a few times - macaroni cheese, extremely basic 1980s style lasagne, my first attempt at Yorkshire puddings. They are probably still laughing about it. At 17, this trip was my first taste of true independence, too - catching the bus from the suburbs on my days off into the city centre, trying out a different cake from the patisserie or brand of cigarettes from the tabac each time. But I'd never been back, so really wanted to see it again, and show my partner and kids this fantastic city. We camped at Camping de Lyon which is a bus ride from the city centre - a nice campsite with a small pool and a restaurant with fairly basic pizzas. On arrival there was a thunderstorm, but the weather for our day in Lyon was perfect - not too hot - and a great adventure. We had a lovely lunch in Rue Merciere and then caught the funicular up to the cathedral at Fourviere, which has fantastic views of the city.
Stop 3 - Le Bourg-d'Oisans - 2 nights
This was a wild card but turned out to be brilliant. The idea really was to put us another two hours further south in our quest to reach the Med, but in fact, this was another place we could happily have stayed for a week. The pool surrounded by mountains at the campsite - Camping a la Rencontre du Soleil - was stunning, and the one day we spent driving up the slightly terrifying mountain roads was absolutely unforgettable.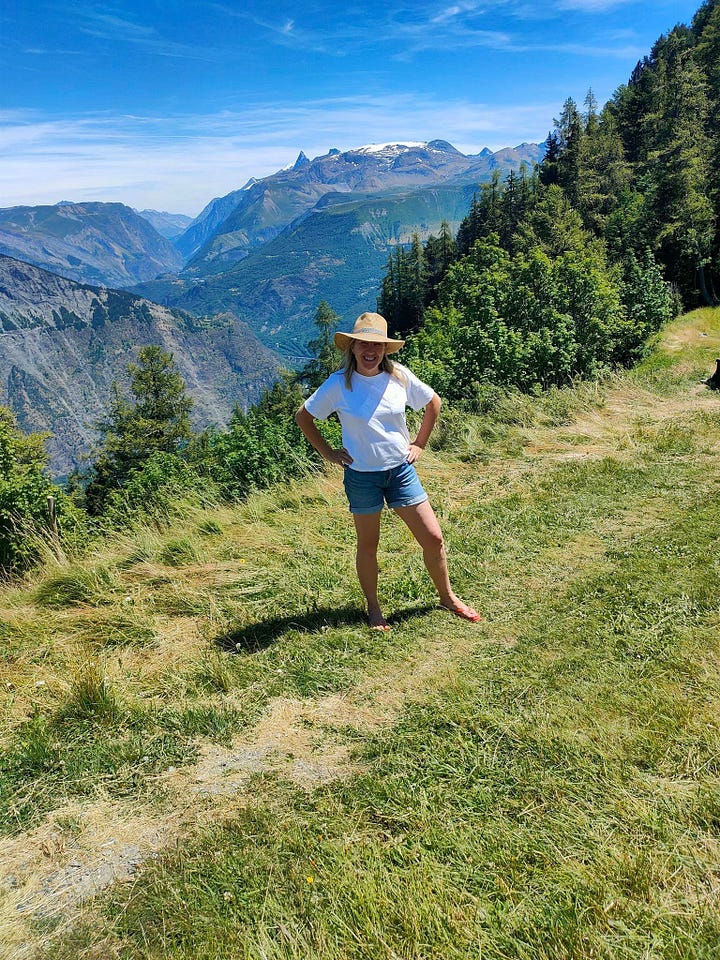 Stop 4 - Vias Plage - 4 nights
As if to prove that it's the journey that counts, not the destination, this place that we had all had in our mind as the 'goal' turned out to be the only slight disappointment of the trip. Everyone was sad to leave Le Bourg and it was another 4 hour journey to get to the Med, during which I kept telling everyone, "Wait til we get there, it'll be worth it!". But when we arrived it was a bit…grotty. I found this campsite - Camping l'air Marin - on Hipcamp so for some reason I expected it to be a bit more quirky or original. Tired and hot, we ate pizzas in the campsite restaurant that evening which were absolutely gross (unusual to get bad food in France!), and then a slightly deranged looking woman started coming around the tables singing to a recorded backing track. I got the giggles really badly and later on, back at the tent, this evolved into tears, feeling like I'd chosen a duff campsite and we were now stuck there for the longest stint of the holiday.
The following day, I cheered up slightly. The site did have some charm, and the kids loved the pool with one big water slide. The beach, we discovered, was too far to walk (about 20 to 30 mins but remember it was HOT!) and when we drove there we were underwhelmed, it was packed and the water murky. So we stuck by the pool. I read a whole book! (Brat Farrar by Josephine Tey which was just the escapist mystery I needed!). We went to the campsite entertainment each night and it was diabolical to the point of actually being pretty amusing - the highlight being the evening the entertainers all keep running out in bad wigs and miming badly to hit songs. I got drunk that night and returned to my tent with hiccups, to my kids delight.
Stop 5 - Collioure - 2 nights
This was a place my partner had visited as a child and had a hankering to return to. It was slightly nuts to go even further away from Calais at this point, but wow, it was worth it. We slid into the campsite - Camping les Amandiers - at lunchtime, all starving. A little cafe called had a private party of French people all tucking into some amazing looking stew, but, perhaps sensing our desperation, they made up a table for us and brought out cold drinks, delicious food and then a complimentary glass of their homemade liqueur.
We then put our tent up in the hottest, driest, dustiest pitch so far, and later, walked to the campsite's beach for a swim. Later on, after showers, we walked the cliff path from the campsite to Collioure, such a beautiful place that you never want to leave. The next day we went back and spent the whole day and evening there, swimming, eating, drinking, shopping and sight-seeing. Everyone absolutely loved this place, I'd highly recommend a few days there.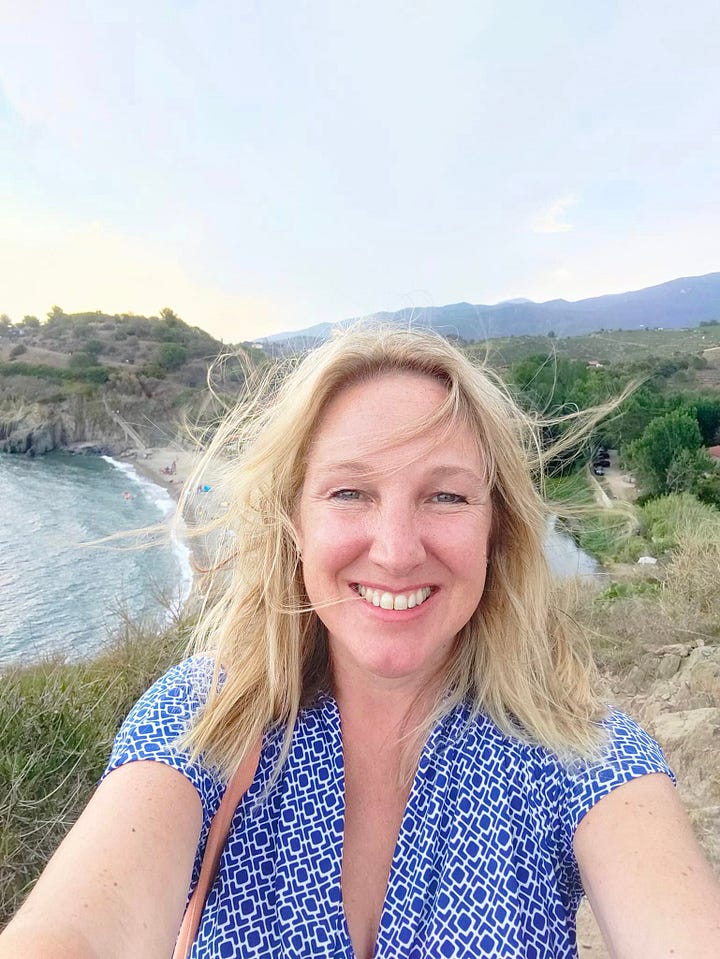 Stop 6 - The Ardeche - 3 nights
I was reluctant to enthuse too much about this campsite - Camping Domaine de la Plage - to the kids as we left behind our beloved Collioure, lest it turned out to be another one like Vias Plage that looked good online but was a bit lacklustre in reality. However, as we arrived, we could not believe our luck. As we got nearer, the surrounding area itself and then the campsite was absolutely beautiful - but it got better! "Follow me" said the lovely young frenchwoman taking us to our pitch, and proceeded to show us our own private, lockable shower room, and a pitch with a view of the Ardeche, and it's own fire to cook on, complete with sink, tap, and a little path down to the river beach. We were in heaven! The pool was also beautiful, and while my partner and the 9 year old rock hopped and swam in the river which had BIG SNAKES swimming in it, myself and the girls hung out poolside and I read another book - this time one I found in the campsite library, a Joanna Trollope. I'd never read a book by her before and was curious, it was a load of twaddle really, but very enjoyable, escapist twaddle. We also found a lovely fruit, veg, deli and wine type shop just down the road that would make you WEEP with the quality of its produce compared to the UK offerings. Here there were not three but four colours of wine: red, white, rose and GRIS. Well sign me up for a lifetime of balmy evenings drinking gris (priced around 3 euros a bottle ffs!) by that river. Perfection!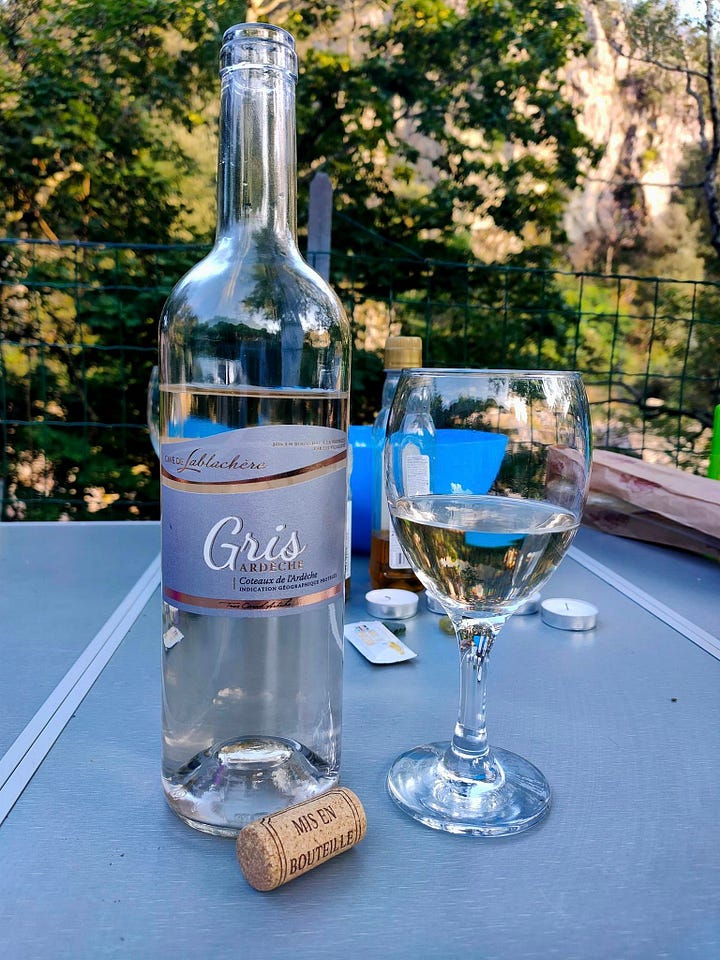 Stop 7 - Nevers - 1 night
Leaving the Ardeche was hard, not just because it was so perfect, but because it was a move towards the end of the holiday, really, and this felt sad. We drove another 4 hours journey to reach Nevers and when we go there, the campsite was super basic, and it was all a bit grey and rainy and uninspiring. We walked over the bridge into Nevers hoping for a lovely medieval city evening, but it didn't really tick the boxes, plus, it was a Monday and - we suddenly realised - most places are shut in France on Mondays. So this was not a memorable evening but it did the job of getting us further North.
Stop 7 - Versailles - 2 nights
Exhaustion was setting in a bit by this stage and the weather was getting more British. We stayed at the Huttopia campsite in Rambouillet, part of the same chain as Camping de Lyon. We were in the woods and it was pretty but for the first time on the trip, a bit chilly. There were some family arguments and some bad behaviour all round, leading to a grumpy early night. The next morning, however, we had all cheered up again (this holiday was great for teaching everyone the life lesson that bad moods and upsets come and go, you just have to hang in there) and we set off to visit the Palace of Versailles. It was, of course, spectacular. After we left, we went into Versailles for a cake and coffee at about 4 pm, and as we chatted, the kids realised we were not that far from Paris. The idea began to grow that we could all spontaneously go and see the Eiffel tower, and the 9 year old for some reason was absolutely passionate about doing so. So, tired beyond belief, we made a 'no wingeing' deal with the kids and caught a train into the centre of Paris. We walked around for a couple of hours getting our Eiffel tower fix, then headed back to Versailles for a tres chic McDonalds and back to the campsite to bed.
And the next morning, to Calais for our return ferry home.
How much did it all cost?
As I've said, the ferry was £150. The campsites ranged from around £25 per night for the municipal camping and the basic site in Nevers, to just under £100 per night for the campsite in Vias Plage - but bearing in mind that included a good pool, and other facilities like a trampoline, ping pong, crazy golf, terrible entertainment etc. Overall the 17 nights camping cost around £1k. If you wanted to do this sort of holiday more cheaply, you could choose cheaper campsites, in particular the municipal ones. Then there were the tolls on the French motorways which I would estimate cost another £200, and fuel, which was about another £300. So the basic cost was around £1650 - before food and drink. We did our best to economise on this but it has to be said that being on the road a lot often meant that we would crash into a place tired and hungry and without the energy to find a supermarket. We ate a lot of salami, cheese and baguette lunches and cooked a few times, sometimes making basic tuna pasta on the camping gas and, with the great BBQ in the Ardeche, we cooked meat and salad every evening. I'm not going to give a cost for food - if you do this kind of holiday it will be up to you to budget this and see how you go!
Overall it was exciting, educational, exhausting and life-enhancing. We made far more memories than we would have done on a package holiday, although don't get me wrong, an all inclusive pool holiday also has its appeal! The kids learnt how to be strong and keep going even when you are homesick and tired and things feel tough, but most importantly they learnt how to travel, how freeing it is once you get on the road, and how wonderful the feeling is that the world is your oyster. They learnt something it took me until my thirties to find out - how easy it is to have an adventure.
I've kept this post as brief as possible but if you have any unanswered questions I'd be happy to answer them in the comments! I really hope it inspires you to create your own kind of holiday and explore this wonderful world.
The Mule is a reader-supported publication. To receive new posts and support my work, consider becoming a free or paid subscriber.
---
If you are a paid subscriber, I'd love to hear from you about a possible zoom / webinar in September. Tell me if you would like this and what you would like our focus to be. I'd be thrilled to do this with you. Let me know your thoughts.
---
The following are Amazon affiliate links to purchase my books - it doesn't cost you any extra but I earn a small commission.
If you don't like Amazon, you can use this affiliate link to bookshop.org, who support small book sellers.